Luigi DeSantis – Cultivating a Spiritual Home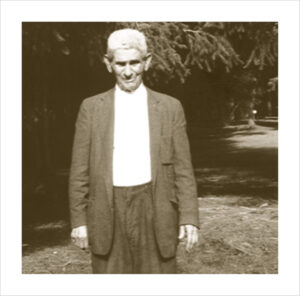 In the mid-twentieth century, Luigi DeSantis came to live at and care for the gardens and orchards of Mount Angel Abbey, where he became known as a man of faith and piety. Little did he know that his work of caring for the land and environment at Mount Angel would be continued decades later by his great-grandson Dean and the now family-owned company, DeSantis Landscapes.
Born in 1881, a year before Mount Angel Abbey's founding, Luigi grew up in Montefortino,
Italy, a rural town nestled in the hills and mountains of the Province of Fermo. Along with his brothers Tony and Anibale, Luigi immigrated to the United States in 1905, passing through Ellis Island. Hearing about work on the railroads near Portland, Luigi and Tony traveled by train to the West Coast and married the two daughters of an Italian woman who ran a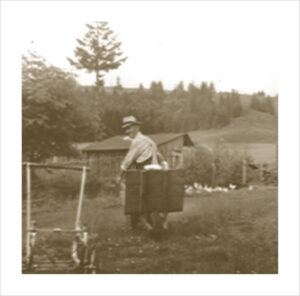 boarding house in Portland. Luigi and his wife, Margherita, started a family in Portland but later moved to rural Silverton, where they developed a commercially successful strawberry
farm. After the death of Margherita in 1947, Luigi briefly lived with some of his adult children before receiving the permission of Abbot Thomas Meier, OSB, to take up residence at Mount Angel Abbey.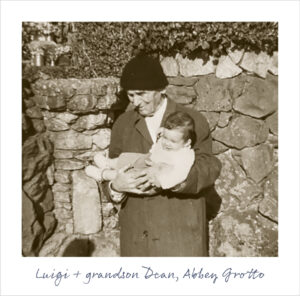 Fr. Vincent Trujillo, OSB, recalls that Luigi's room was next to the biology and chemistry labs in what is now the Abbey museum. He remembers Luigi as a "very saintly man" who joined the monks for prayer and spent hours at the Abbey's grotto in prayer to the Blessed Virgin Mary. According to Abbot Peter Eberle, OSB, Luigi was great friends with Br. Fidelis Schoenenberger, OSB, who designed the grotto and completed it in 1922. Abbot Peter fondly remembers the piety of Luigi, who liked to sprinkle holy water wherever he went, so much so that, recalls Abbot Peter, "the first pew [in the church] was really water stained."
The descendants of Luigi DeSantis say they feel humbled to take up the mantle of their great-grandfather in caring for the landscape of the Hilltop. Dean DeSantis adds that, "our team is looking forward to taking an active role in keeping the Abbey's extensive green space an optimal setting for prayer and meditation, as well as furthering the role well-tended gardens play in monastic life."
– Ethan Alano
Mount Angel Letter, Summer 2022
Categories: Monastery, Uncategorized