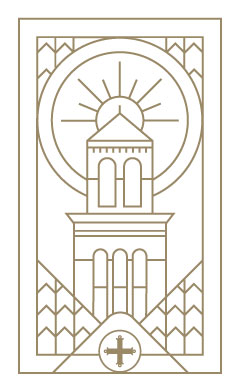 Oremus - Let Us Pray
"Seek peace and pursue it."
(Psalm 34:15)
The monks of Mount Angel Abbey invite you to join them in Mass and prayers through the Oremus program. Oremus is Latin for "let us pray." The Oremus program includes: Mass intentions, anniversary remembrances, novenas and prayer series. The monks are pleased to include your needs in their daily prayers.
Novenas & Prayer Series
The monks of Mount Angel Abbey celebrate five prayer series during the year:
All Soul's Month of Prayer (Nov. 2-30)

The monks of Mount Angel chant the Requiem aeternam (Introit, Mode VI)


Christmas Octave of Prayer (December 25-January 1)
Saint Joseph Novena (March 11-19)
Saint Benedict Novena (July 3-11)
Assumption of the Blessed Virgin Mary Novena (August 7-15)
One month before each prayer series those enrolled in this program receive a remembrance prayer card and an intentions card. You are welcome to send us your special prayer intentions and they will be included in the monks' daily prayers. To receive these prayer cards or to request a special prayer intention, please contact us.
Mass Request
Please contact us at Mount Angel Abbey to request a Mass, Memorial Mass, or a Daily Community Mass. A donation of $10 per Mass intention is the suggestion donation amount from regional bishops. If you have any questions or need further assistance, please email us or call 503.845.3404.
"Peace be with you, my brother, and with your family, and with all who belong to you." (1 Samuel 25:6)
Individual Mass
The priest-monks of the Abbey offer a Mass each day and you can have your Mass intentions included. You will receive an acknowledgement letter for each Mass request, or you can request that we send no acknowledgement. If you request that a Mass be offered on a particular date, we will make every reasonable effort to meet that request. Please contact the Abbey at least six weeks prior for specially dated Masses. A donation of $10 for each mass is requested but not required. Be sure to include your personal intention! To request a Mass intention, please contact us.
Memorial Mass
Each month for one year, ten Masses are said for the deceased enrolled in this program. We provide a card you may send to inform the family that you have asked the monks to say Masses on behalf of the deceased. A donation of $10 is requested but not required. To receive Memorial Mass cards, please contact us.
Daily Community Mass
Enrollees are perpetually included in the intentions of the monks' daily community Mass at the Abbey. The person who requests the enrollment will receive a framed scroll in the name of the enrollee. This is a reminder that your loved ones are included in the daily Masses and prayers of the monks. This is a suitable gift for many special occasions. The suggested offering is $100. To learn more about the Daily Community Mass Enrollment, please contact us.
Anniversary Remembrance
A Mass is offered each day for those enrolled in the Anniversary Remembrance program. Any time during the year you can send us the names and dates of the death of your departed loved ones and we will enroll them in the Anniversary Remembrance Program. On the anniversary date of their passing, they will be remembered by the monks of Mount Angel Abbey at the daily community Mass.
To be enrolled in the Anniversary Remembrance program, please contact us.