Virtual Abbey Bach Festival
Join us right here each evening – July 28, 29, & 30, 2021
All concerts will play on this page the night of the concert and then remain available on our YouTube channel until August 9, 2021
6:30 pm – Platform for Young Musicians: Learn what young musicians are thinking and doing. Tune in early to hear from two pianists and a composer. Learn more.


7 pm – Featured Concert followed by a Post-Concert Conversation with Artistic Director Alon Goldstein and the musicians.
Wednesday, July 28  |  Watch Now
Itamar Zorman, violin with piano accompaniment
The past year has highlighted the value of spending time outdoors in nature, for both body and mind. This program pays tribute to the great outdoors and the inspiration music draws from it, with pieces evoking different times of day, rain, sunshine and flowers.
Program: Bach Outdoors
Bach – Sonata no. 3, BWV 1005, Adagio and Fugue
Schubert – Sonata in A major, D. 574 "Grand Duo" for violin and piano
Ernst – Variations on "The Last Rose of Summer"
Bacewicz – Oberek no. 1 for violin and piano
Thursday, July 29  |  Watch Now
Camille Thomas, cello with Julien Brocal, piano
Deutsche Grammophon artist and Unicef Ambassador Camille Thomas offers a concert filled with optimism, vitality and joyful exuberance. The first female cellist to earn an exclusive contract with Deutche Grammophon, Thomas understands art's power to bring people together. Her charismatic artistry is driven by a passion for life and a desire to inspire others to open their hearts to the wonder and emotion of classical music. "I strongly believe that music has the power to enlarge the heart, to make you feel everything with more intensity," she says. "Music gives hope for the beauty and greatness of the human soul." The performance is in the the art studio of Isabelle de Borchgrave.
Program: Voice of Hope
Ravel  – Kaddish
Brahms  – Sonata No. 1 in e minor, op. 38
Gluck – Dance of the Blessed Spirits
Franck  – Sonata in A major
Friday, July 30
Alon Goldstein, piano, Amit Peled, cello, Alex Fiterstein, clarinet  |  Learn More about the Artists 
The audience was rewarded with stellar playing from start to finish.– The Baltimore Sun
Bound by their Israeli roots, pianist Alon Goldstein, cellist Amit Peled, and clarinetist Alex Fiterstein formed the Goldstein-Peled-Fiterstein Trio in 2005. Today, the ensemble's performances reflect both the special gifts and originality of the three artists as soloists as well as their marvelous sense of ensemble and love of chamber music.
Program: Understanding the links: classical to Hasidic with a touch of klezmer
Beethoven  – Trio in B-flat major, op. 11
Bloch  – "Three Scenes from Jewish Life" for cello and piano
Debussy – Première Rhapsody for clarinet and piano
Stutschewsky – Hasidic Fantasy for clarinet, cello and piano
Crystal Jiang, piano

I have been wedded to music for twenty years. But often I revisit our relationship from the time we first met. There is an endless depth that we can explore. It gives me pleasure to be a young pianist along with an increased sense of responsibility to share music.

---

Hao Zou, composer

In my piano composition Sketch: The Dance in Memory, I introduce the beauty and charms of traditional Chinese percussion instruments that are simulated using the piano timbre. Moreover, I want to showcase this work from a more programmatic perspective, linking images with music to provide a more comprehensive experience for the listeners.

---

Junyi Nie, piano

As a young 21st century artist, I look for innovative ways to present classical music. This video is how I visualize Maurice Ravel's composition Jeux d'eau, as a dialogue between Ravel, a painter and a pianist. The painter created a beautiful impressionist scene, a mysterious sea that looks calm but not simple, much like Ravel's music. The painting is full of color and gorgeous rich hierarchy just like Ravel's composition. Enjoy this journey with Ravel's Jeux d'eau and a reimagined Monet painting, Sea·Boat·Woman.
Please help us to produce another great virtual festival.
Alon Goldstein – Artistic Director of the Mount Angel Abbey Bach Festival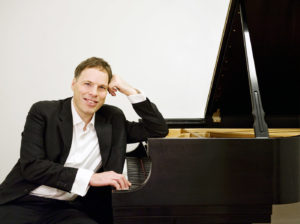 Artistic Director Alon Goldstein is one of the most original and sensitive pianists of his generation, admired for his musical intelligence, dynamic personality, artistic vision and innovative programming. A student of Leon Fleisher, he brings his superb piano skills and artistic vision to the Abbey Bach Festival. Learn more about Mr. Goldstein