Our 49th Abbey Bach Festival was a wonderful virtual concert series, featuring four evenings of classical music to enjoy in the comfort of your own living room. The concerts are available for replay through Saturday, August 8, 2020, on this website and on YouTube.
Please consider a gift in support of the Abbey Bach Festival.
Wednesday, July 29
Letting the sculptures sing

"Art is how we decorate space, music is how we decorate time." – Jean-Michel Basquiat

From Bach to Leonard Cohen from Beethoven to John Williams, Grammy nominated cellist Amit Peled takes us into his sister, Zemer Peled's, art studio where he presents a concert inspired by and in dialogue with these exciting sculptures.

Program will include: Johann Sebastian Bach, Gaspar Cassadó, Luigi Boccherini, John Williams (Schindler's List) and Leonard Cohen (Hallelujah).

Amit Peled, Cello
Ismael Guerrero, Cello
Zemer Peled Sculpture Studio

---

Thursday, July 30
Immerse yourself in the heavenly beauty of Chopin

The Washington Post has written: "One comes away from a recital by pianist Brian Ganz not only exhilarated by the power of the performance but also moved by his search for artistic truth." Ganz is renowned to be one of the few, if not only, pianists to have played every note Chopin wrote! We offer you the unique opportunity to ask this internationally renowned pianist to perform YOUR favorite Chopin pieces. Send us your requests by June 30.

Brian Ganz, piano

---

Friday, July 31
A guitarist's journey

Competition winner and Instagram sensation guitarist JIJI takes us on a journey into the world of tango and beyond on her classical and electric guitars. Don't miss the joy of dancing the tango.

JIJI is a passionate advocate of new music, and an adventurous artist who plays a wide range of music, from traditional and contemporary classical music to free improvisation. Her 2018-19 performing season featured two major debut performances: the Carnegie Hall debut with the New York Youth Symphony and her Lincoln Center recital debut, as part of the Great Performers series.

Composers will include: Bach, Dyens (Tango), Albéniz (Asturias), Steve Reich and Paganini.

---

Saturday, August 1
Beethoven's 250th Anniversary Special
Ludwig van Beethoven (1770-1827)

For the festival finale we have special permission to share with you Beethoven's most popular pieces on period instruments.

Concerto No. 5 n E♭ major, Op. 73
The Emperor Concerto, was Beethoven's last completed piano concerto. It was written between 1809 and 1811 in Vienna, and was dedicated to Archduke Rudolf, Beethoven's patron and pupil.

Symphony No. 5 in C minor, opus 67
Symphony No. 5 was written between 1804 and 1808 and is one of the best-known compositions in classical music and one of the most frequently played symphonies. It is widely considered one of the cornerstones of western music.

Mercury Chamber Orchestra, Antoine Plante

Alon Goldstein, fortepiano
We will be honoring the concert series prepared for the summer of 2020 and inviting the musicians to join us in celebrating the Abbey Bach Festival's anniversary in July 2021.
Please email for more information about tickets or room reservations at the Abbey Guesthouse for the 2021 Abbey Bach Festival.
Purchase Tickets for 2021
Alon Goldstein – Artistic Director of the Mount Angel Abbey Bach Festival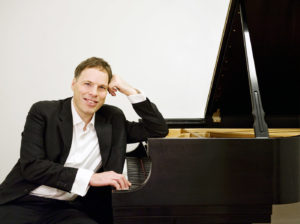 Artistic Director Alon Goldstein is one of the most original and sensitive pianists of his generation, admired for his musical intelligence, dynamic personality, artistic vision and innovative programming. A student of Leon Fleisher, he brings his superb piano skills and artistic vision to the Abbey Bach Festival. Learn more about Mr. Goldstein