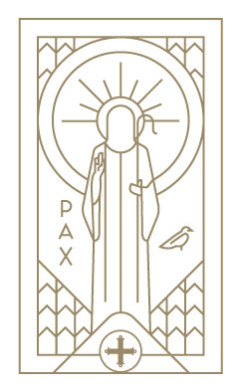 Come for a Day
Day guests are welcome at the Abbey and at the
Saint Benedict Guesthouse and Retreat Center!
We ask that all guests sign in at the front desk on the reception level just so we know who is in the building. Before venturing to other parts of the guesthouse, please check with the Guest Master or Guest Services Coordinator to see if there are group activities taking place in other areas of the facility. The public areas are on the third floor. Only guests staying at the retreat center are allowed on the fourth floor. The reading lounge on the second floor and the seating on the first floor or conference area are usually reserved. The enclosed spaces that are meeting rooms and parlors are reserved and we ask that you not use them unless you have made arrangements through our office.
The Saint Benedict Guesthouse and Retreat Center has a coffee area and lounge on the third-floor mall level. Coffee, tea and hot water are available for our guests. The guest area is a welcoming place to sit and read. You are also able to eat any meals you bring. Be sure to always leave the area you have used clean and please throw away any trash. We do not have a microwave for public use. Please keep this in mind when packing your lunch for the day. Meals in the dining room are not available to our day guests.
On the top of Abbey Drive, pathways encircle the Hilltop, passing under the giant cedars and around the buildings. The distance of the combined pathways equals a quarter mile track. For a self-guided tour, check out the online Walking Tour brochure or find one in the lobby of the guesthouse, bookstore, or vestibule of the Abbey church.
Guests are also welcome to visit the Abbey library (closed summer of 2021 for restoration work). You may also want to visit the Abbey museum, located behind the guesthouse (open Wednesday through Sunday).
If you are interested in coming as a school group or other large group, we ask that you let us know ahead of time. We can arrange for a monk to give you a tour and recommend parking options for your van or bus. We also have specific policies for school groups, as well as forms we ask you to complete before your arrival. Children 18 years of age and younger must be accompanied by a parent or responsible adult at all times while at the Abbey.
The Monastery and Seminary residence buildings are private; visitors are not allowed to tour or use these buildings.
Come away to a quiet place and rest awhile. (Mark 6:31)
To learn more, email us or call 503.845.3025.