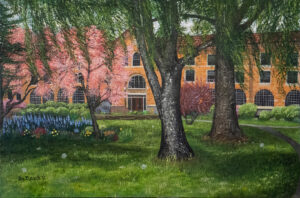 Title: Paradisus claustri
Artist: Br. Isaiah Vargas O.S.B.
Canvas: 30 L x 20 H
Acrylic paint + modeling paste + brushes + palette knife
This painting of the cloister garden at Mount Angel Abbey was inspired by the springtime beauty and the grace of our Lord's resurrection, visible as I walked through the cloister garden. The vivid colors and the life flowing from nature at this time really moved me to try and capture that moment. The trees also deeply inspired me, especially the birch tree, with its beautifully textured white bark. The colors and textures that day were begging to be captured and enjoyed, from this beautiful garden given to us by the Lord. The original hangs in the monastery cloister at Mount Angel.
– Br. Isaiah
Full size giclee prints of Paradisus claustri are available for purchase. The prints are on cold-press fine art textured paper, 30 L x 20 H image size, with an additional one inch white border around the image. Prints are signed by the artist, Br. Isaiah, O.S.B., and are mailed with a Certificate of Authenticity.