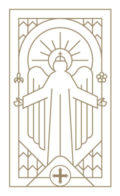 Welcome to the Abbey Museum
Open Tuesday through Sunday 9 am to 5 pm.
Closed on Mondays.
In the newly remodeled entrance hall of Mount Angel Abbey's museum, there is a space for showcasing original art. Currently on exhibit are seven incredible collections by Amanda Quiroz. A small section from the artist's statement on Ms. Quiroz's website describes this body of work done in several mediums:
I draw the minutiae I find and collect in everyday interactions with nature; primarily, overlooked objects that are typically thought of as dust: dried seeds, dead insects, fallen feathers, strands of hair … I combine these small forms to scale within accumulated compositions using ethereal abstraction inspired by early photomicroscopy and astrophotography.
Ms. Quiroz's art is currently on display and all of these works are available for purchase through the artist.
There are also four new display cases, built by the Abbey's carpenter, Mr. Tony Morris, and five Barrister cabinets. These new additions hold treasures collected over the decades, but until now hidden away in storage due to lack of exhibit space. Hundreds of "new" artifacts are currently on view, along with the favorite Abbey museum items displayed in the past. By moving to a semi-open storage system, we have begun a gradual transition back to the original vision of Fr. Frowin Epper, O.S.B., (d. 1933) the founder of the museum. There is still work to do by way of cataloging and interpretation, but the current museum exhibit space is a good beginning.
The integration of art and natural history provides a collection that is both educational and inspirational for all who visit. In the words of Fr. Frowin, the museum is, "sufficiently important and interesting in itself to deserve at least the leisure moments at our disposal. There is nothing so little or so apparently trivial in God's grand world but may be made to teach useful lessons, and at the same time become an endless source of pure, interesting, and wholesome recreation during our spare hours."
The monks of Mount Angel Abbey are proud of this eclectic display, ranging from geological and environmental specimens to art and artifacts, ancient and contemporary, temporal and ecclesial, collected from a diverse cross-section of cultures.
We welcome you to come, see, and enjoy.