Notes to Oblates of Mount Angel Abbey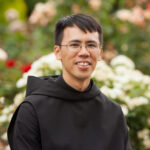 Fr. John Paul Le, O.S.B., director of the oblates of Mount Angel Abbey, writes frequent notes to the oblates of Mount Angel Abbey. The oblates are a vibrant and active community of lay people and priests who strive to live the Holy Rule of St. Benedict in the spirit of Mount Angel Abbey, as far as their state in life permits. The notes are a mix of spiritual reflection, instruction, and updates on current events within the community of monks and oblates.
"The Scriptures Rouse Us"

Prologue 8
September 23, 2022
Dear Oblates,
The word of God is living and active, and as a living word, God's word has power to move us and transform our lives. The saints are witnesses of this. St. Antony and St. Augustine are perhaps two of the best known examples of people whose lives were completely changed by hearing a single verse of scripture. The word of God may not have this dramatic, life changing effect in our daily lectio divina, but our commitment to lectio divina draws us ever more deeply into the heart of Christ, slowly transforming us into his divine image. When our heart is pure, and we are open to listening to what God has to say, he will very often speak to us through the sacred scriptures. He can awaken us from our drunken spiritual stupor and invigorate us with new life. This is the power of the word of God. When you do your lectio today,  pray that God's word will rouse your soul.
Prayer request. Please pray for the oblate retreat this weekend. There will be two novices making final oblation and one transferring his stability to the Abbey. There may be up to five who will begin the novitiate. Please continue praying for the election of the first Abbot of our daughterhouse in Cuernavaca, Mexico. Please know that you can always send your prayer requests through our Oremus program.
Yours in Christ,
Fr. John Paul, OSB
Director of Oblates
---
---
How To Read a Book (According to Saint Benedict) by Br. Ambrose
Monks have always had a love-hate relationship with reading. On the one hand, Saint Benedict himself is said to have fled from his "liberal education" in Rome as the first stage in his monastic conversion. His biographer, Pope St. Gregory the Great, paradoxically explains that "he took this step, fully aware of his ignorance; yet he was truly wise, uneducated though he may have been" (Dialogues II). On the other hand, the very same Saint Benedict would go on to write a rule for monks in which he not only expects them to be literate (cf. RB 8.3), but also that they will regularly "devote themselves to reading" (RB 48.4; cf. RB 4.55). This is nowhere more evident than in his prescriptions for the Lenten season:
They should be free in the morning to read until the third hour… During this time of Lent each one is to receive a book from the library, and is to read the whole of it straight through. (RB 48.14-16)
Saint Benedict certainly could not have expected ignorant, uneducated monks to read entire books. And, if we are to believe Pope Gregory's pithy phrase that "his life could not have differed from his teaching" (Dialogues II.36), Benedict must not have been so ignorant or uneducated himself…
This tension between St. Benedict's life and his legislation is best resolved by recourse to the kind of reading he recommends for his monks. In chapter 48 of his Holy Rule, he calls it lectio divina, or "divine reading." As some of Saint Benedict's translators point out, "the adjective 'divine' refers in the first instance to the nature or quality of the text being read," namely, "the Bible, the Fathers of the Church, or some other spiritual writing" (RB 1980 48.1n; cf. RB 73.2-6). Despite their footnote, however, these same translators chose to render lectio divina not as "divine reading," but as "prayerful reading." Such a translation shifts the focus away from the nature of the text one is reading ("reading divine things") and instead emphasizes the manner in which one reads a text ("reading things in a divine way"). This effectively expands the range of monastic reading material from a small list of "divine" books to almost anything at all—including even those subjects which once caused the youthful Saint Benedict to abandon his "liberal education" in Rome (the very same subjects, we might add, that constitute the undergraduate curriculum at Mount Angel Seminary!).
Regardless of what one chooses to read, lectio divina has traditionally been described as a four- (or five-) step process. Pope Benedict XVI formulated it thus:
Reading: what does the biblical text say in itself?
Meditation: what does the biblical text say to us?
Prayer: what do we say to the Lord in response to his word?
Contemplation: what conversion of mind, heart and life is the Lord asking of us?
Action: how should we act to make our lives a gift for others in charity?
(Verbum Domini 87)
The essence of this process, however, has been described most elegantly by the 20th-century philosopher and unbaptized Christian mystic (!!!), Simone Weil. "The key to a Christian conception of studies," she explains, "is the realization that prayer consists of attention" (Waiting for God 105). More than a white-knuckled attempt at concentration, Weil's definition of "attention" represents a radical receptivity to truth: "our thought should be empty, waiting, not seeking anything, but ready to receive in its naked truth the object that is to penetrate it" (112).
When we prayerfully or attentively "read" anything—be it a Bible passage, a novel, a work of art, a marvel of nature, or even our neighbor—we preclude all distraction, expectation, and prejudice in order to welcome into our hearts and minds the deepest and truest meaning of that thing upon which our attention is fixed. And we know that this meaning—if we truly believe that "from him and through him and for him are all things" (Rom. 11:36)—must be nothing other than God himself. Our prayerful and attentive reading thus results not in the knowledge that "puffs up," but the love that "builds up" (cf. 1 Cor. 8:1)—and something tells me that Saint Benedict certainly wouldn't flee from that.
Further reading:
Pope St. Gregory the Great, The Dialogues (Book Two is popularly published as an independent booklet entitled "Life and Miracles of St. Benedict")
Simone Weil, Waiting for God (esp. pp. 105-116, "Reflections on the Right Use of School Studies with a View to the Love of God")
Jean Leclerq, O.S.B., The Love of Learning and The Desire for God: A Study of Monastic Culture
---
Oblate Calendar
September
29 – Solemnity of Archangels (plenary indulgence may be obtained by oblates)
October
23 – Oblate Sunday – Br. Cyril on Mt. Angel History: Part II
November
4-6 – Oblate Retreat – Br. Louis. Praying Deeply: the Liturgy as the Marriage of Heaven and Earth
13 – Oblate Sunday – Br. Cyril on Mt. Angel History: Part III
December
8 – Immaculate Conception (plenary indulgence may be obtained by oblates)
8 – Advent Day of Recollection (Engelberg Room): Br. Anselm: The Hymns of Advent – Conditor Alme Siderum and Alma Redemptoris Mater.
11 – Oblate Sunday – Br. Cyril on Mt. Angel History: Part IV
2023
January
15 – Feast of St. Maurus and Placid (plenary indulgence may be obtained by oblates)
22 – Oblate Sunday – Br. Alfredo on the Tools of Good Works (Ch. 4 of the Holy Rule)
For more information about the oblate program at Mount Angel Abbey, email oblates@mtangel.edu.