Notes to Oblates of Mount Angel Abbey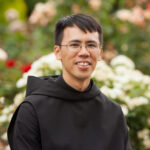 Fr. John Paul Le, O.S.B., director of the oblates of Mount Angel Abbey, writes frequent notes to the oblates of Mount Angel Abbey. The oblates are a vibrant and active community of lay people and priests who strive to live the Holy Rule of St. Benedict in the spirit of Mount Angel Abbey, as far as their state in life permits. The notes are a mix of spiritual reflection, instruction, and updates on current events within the community of monks and oblates.
A Note to Our Dear Oblates – May 27, 2023
Dear Oblates,
"Then there appeared to them tongues as of fire, which parted and came to rest on each one of them. And they were all filled with the Holy Spirit."
– 1st Reading for the Solemnity of Pentecost
The Solemnity of Pentecost's first reading begins with the disciples gathered in "one place together" awaiting the coming of the Holy Spirit. The previous chapter in the book of Acts tells us that they are there in obedience to Jesus' pre-ascension speech and are awaiting the promised Spirit through constant prayer (Acts 1:8, 14). It is important to notice two things at the beginning of the reading: 1) God's promise to send His Spirit to His friends who had shortly before abandoned Him, and 2) the apostles' active, not passive, waiting. God reaches down and seeks all of us–sinful, weak, and treacherous as we may often be–to share His Spirt, His very self. He is the first to desire us. We respond to this desire and are most disposed to receive the Spirit when we are in a prayerful state, whether it be in a silent room, in front of the blessed sacrament, in a moment of charity, in nature, or in our Lectio. He desires to fill our "entire house," our entire being, His entire church, with the Spirit, so that in us and through us He can "renew the face of the earth" and communicate to all "the mighty acts of God."
As the Spirit came to rest on "each one of them … they … began to speak in different tongues," in different languages, which are different ways of communicating the same thing. Although in the reading the spoken language was the main means of communication, allegorically we can interpret this to mean all the types of "languages" at our disposal that allow us to transmit in different ways the same truth of God's love, salvation and peace. This includes our actions, our way of life, our simple tokens of charity. Let us then dispose ourselves to receive the Holy Spirit this coming feast by surrendering our heart to our bridegroom's renewing love and peace. Receiving the Spirit which is infinitely more than we can contain, we, like the disciples in the story, will undoubtedly share the graces we have received with others and be united with the growing body of Christ.
Oblates receive a 30% discount on Abbey Bach Festival tickets. To reserve your ticket, please click here.
I will be giving a Day of Recollection entitled, Benedictine Spirituality for Everyday Living in Calgary, CANADA on June 10 from 1:30-4:30. If you are interested, please click here for more information.
Br. Ambrose's latest article entitled, "Theōría Physikē (Or: What Happens When a Monk Looks at Art…)" can be viewed here. He writes, "The entire article is a running commentary on a painting by our very own Helen Bouchard [Bookstore employee]."
Prayer request. Thank you for your prayers for the Abbey retreat. The monks had a wonderful and grace-filled retreat. Please pray for the many monks who will be traveling in the next week (about a dozen of them). Please know that you can always send your prayer requests through our Oremus program.
Yours in Christ,
Fr. John Paul, O.S.B.
Director of Oblates
---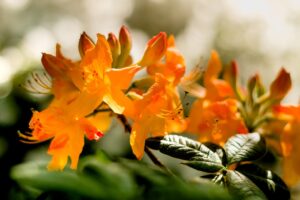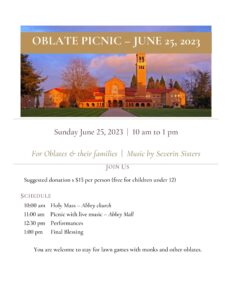 ---
Oblate Calendar
May
28 – Oblate Sunday: Br. Alfredo on the Tools of Good Works, Part III: The Ascetical Path: "to Chastise the Body."
June
25 – Oblate Picnic
July
8 – St. Benedict Festival
10–13 – Oblate Study Days: Br. Thomas On the Davidic Covenant
11 – Solemnity of St. Benedict (plenary indulgence may be obtained by oblations)
23 – Oblate Sunday: Br. Alfredo on the Tools of Good Works, Part IV: The rules of Christian Koinonia.
Aug
13 – Oblate Sunday. Br. Anselm on the 7 Rich Ways, Part I.
Sept
9 – Oblate Council
10 – Oblate Sunday. Br. Anselm on the 7 Rich Ways, Part II.
22-24 – Oblate Retreat. Fr. Michael Shrum – Friend, Why Have You Come.
29 – Solemnity of Archangels (plenary indulgence may be obtained by oblates)
---
For more information about the oblate program at Mount Angel Abbey, email oblates@mtangel.edu.