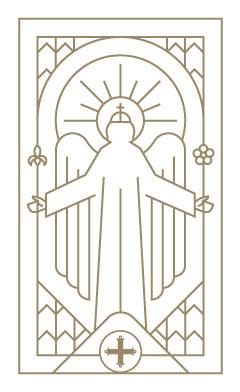 Volunteer at Mount Angel Abbey
Volunteers – "Angeli Domini"
In the history of Mount Angel Abbey, there have always been lay people called by God to support the life and works of the monastic community through the generous offering of their gifts, time, and talents. Known as "Angeli Domini," Angels of the Lord, volunteers hold a special place at Mount Angel, supporting the community in quiet, humble service.
Many volunteers are oblates, lay Benedictines associated with Mount Angel Abbey who live in the world under the Rule of Saint Benedict. As part of their "conversion of heart," they come to the Hilltop to pray with the monks and offer service in keeping with the Benedictine way of prayer, work, and holy reading.
The witness of this peaceful rhythm of prayer and work at Mount Angel draws others to assist the monastic community in many ways.
When you visit Mount Angel, you will find volunteers helping in the library, working on the grounds, serving in the guesthouse, bookstore, and seminary, or participating in Hilltop events. Feel free to ask them your questions or for directions; our volunteers are happy to assist guests in finding their way. Like the monks, you will find that the volunteers at Mount Angel Abbey "receive everyone as Christ."
For more information on how to volunteer at Mount Angel, contact the Abbey's volunteer coordinator at volunteer@mtangel.edu or call 503.845.3030.
Dear friend of Mount Angel Abbey,

We extend our sincere gratitude for your interest in joining us as a volunteer. In the many ways that our Hilltop community celebrates and works, we have much need for the generosity of committed helpers such as yourself. One of the ways by which you can help us is by completing a background check and Safe Environment training administered by Praesidium Inc. This is an important contribution of your time and attention to furthering the safety and security of our monastic community and of all our guests. Once again, thank you for your valuable time and good will.

In Christ,
Abbot Jeremy Driscoll, O.S.B.

---

The safe handling of your personal information is a priority for us: Praesidium utilizes data encryption and a secure server to protect sensitive information.  Click here for more information. 

---

Please select from the options below to download a volunteer application.

Complete the form electronically using Acrobat Reader and email it to volunteer@mtangel.edu.

Or, print and mail your completed form to
Mount Angel Abbey & Seminary
Attn: Volunteer Coordinator
1 Abbey Drive, Saint Benedict, OR 97373