Br. La Vang Nguyen, O.S.B., professes Solemn Vows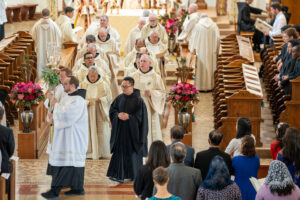 On Tuesday, September 13, the monks of Mount Angel Abbey gathered in the Abbey church for a Pontifical Mass of Solemn Profession. A number of visiting priests, seminarians, family, friends and other guests joined the monks to witness Br. La Vang Nguyen, OSB, profess solemn vows during the centuries-old ceremony.
The monastic schola led the congregation in chanting the entrance antiphon from Psalm 122: "I was glad when they said to me; let us go up to the house of the Lord." The text set a joyful tone for the solemn celebration. Br. La Vang served as lector, reading the Scriptures which highlighted the profundity of his lifelong consecration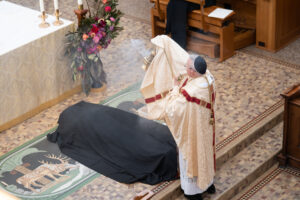 to God as a monk. During the homily, Abbot Jeremy Driscoll, O.S.B., turned to Br. La Vang directly and reminded him that "solemn monastic vows is a bountiful reaping, and there is much promise in this for the one who does it."
As he did three years prior for his profession of simple vows, Br. La Vang read his profession document out loud to those gathered and signed it on the altar, making permanent his vows of obedience, conversion of life, and stability at Mount Angel Abbey. After receiving the cuculla, the pleated choir robe worn only by solemnly professed monks, Br. La Vang exchanged the kiss of peace with all of the permanent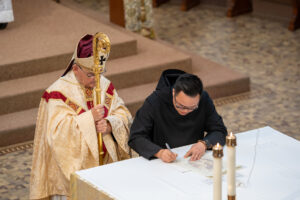 monks of Mount Angel as the monastic schola chanted from Psalm 84: "How lovely is your dwelling place, Lord, God of hosts." During the entire Eucharistic prayer, he prostrated himself on the sanctuary floor, covered with a black pall in an act of "mystical burial," dying to the old man and rising in Christ.
Mount Angel Abbey is a Benedictine community founded in 1882 from the Abbey of Engelberg in Switzerland. Situated on a hilltop overlooking Oregon's Willamette Valley, the monks of Mount Angel weave together a place of prayer, hospitality, education, and reflection deeply rooted in the Rule of St. Benedict.
Categories: Monastery, Uncategorized