170 years of love, faith, fidelity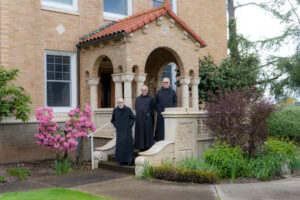 During Sunday Mass on September 25, three monks of Mount Angel celebrated their Jubilee of Monastic Profession. Abbot Peter Eberle, OSB, and Br. James Bartos, OSB, who served as principal celebrant and deacon for the Mass, respectively, both commemorated 60 years of monastic profession. Br. Simon Hepner, OSB, observed 50 years of profession.
After the homily, the jubilarians stood before Abbot Jeremy Driscoll, OSB, who prayed a blessing over them for their continued perseverance in monastic life. Each jubilarian then read his profession document anew and laid it on the altar. Standing before Abbot Jeremy again with arms outstretched, they sang the Suscipe as they did for their solemn professions many decades ago.
After Mass, the monastic community and other attendees congratulated the jubilarians in a reception outside the Abbey church.
Categories: Monastery, Uncategorized