What to read for Lent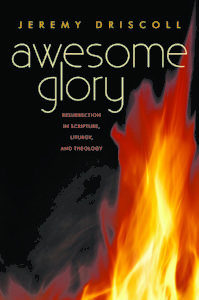 Resurrection means going deep.
Just in time for Lenten reading and in preparation for the Easter Triduum, my friend, who figured out how to publish a children's book about 4 years ago and has been going strong ever since – informed me that Liturgical Press has published Abbot Jeremy Driscoll's new book, Awesome Glory: Resurrection in Scripture, Liturgy, and Theology.
With the clarity of an experienced teacher, Abbot 
Jeremy offers readers a deep dive into the mystery of 
the resurrection of Jesus. Starting from the conviction that the liturgy is meant to offer an immediate and effective contact with the resurrection, this profound and beautifully accessible book draws out the liturgical riches of the period from the Paschal Triduum through Pentecost. Abbot Jeremy focuses particularly on the Scripture texts of Mass, but also on important rituals like the washing of feet, and the Lucernarium (Service of Light).
Awesome Glory is a beautiful, reflective read for anyone who wants to better understand, teach, and live the startlingly good news of Christ's Resurrection.
For more information about Awesome Glory, email the Abbey's bookstore or call 503.845.3345.
Awesome Glory is also available on Kindle from major online booksellers.
---
What else do monks read in Lent?
Br. Charles Gonalez
"The Noonday Devil: Acedia, the Unnamed Evil of Our Times"
by Dom Jean-Charles Nault
Br. Israel Sanchez
"The Imitation of Christ"
by Thomas a Kempis
"Earthen Vessels: The Practice of Prayer According to the Patristic Tradition"
by Gabriel Bunge
"The Heart of the World"
by Hans Urs von Balthasar
Prior Vincent Trujillo
"Story of a Soul"
by St. Therese
Fr. John Paul Le
"Everybody Needs to Forgive Somebody"
by Allen R. Hunt
Fr. Aelred Yockey
The Passion Narratives, from the Gospels
"The Dolorous Passion of Our Lord Jesus Christ"
by Anne Catherine Emerich
"Mystical City of God"
by Mary of Agreda (17c)