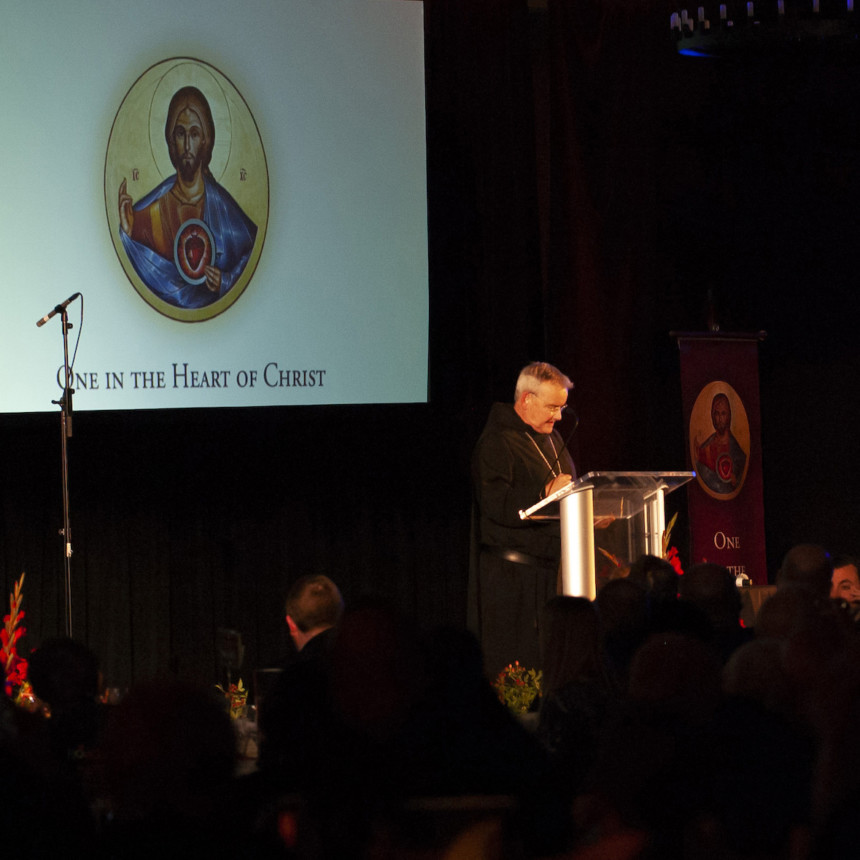 One in the Heart of Christ: Celebrating Vocation to Priesthood
Ten years ago, a small group of about 40 friends gathered in Eugene for a dinner and fundraiser to help support Mount Angel Seminary. Though their numbers were small, they lit a bright fire of enthusiasm and dedication and the dinner has continued to grow. On March 4, the gathering included close to 400 people in the Hotel Eugene, celebrating and pledging support for the seminarians at Mount Angel.
The tone was set for an evening of unity in the Heart of Christ as the seminarians processed into the full ballroom. As Abbot Jeremy Driscoll, O.S.B., later described it, the room was "full of people in good moods. And God is the reason – God revealed in the heart of Christ, that huge burning furnace of love for the whole of humanity."
Throughout the evening, the seminarians sang in full choir and in small groups, with classic pieces such as, "For the Beauty of the Earth," and Durufle's "Ubi Caritas." The program also included a panel discussion with seminarians reflecting on their journey to priesthood. Deacon Dean Marshall, studying for the Diocese of Sacramento, spoke of the impact of his pastoral experiences while in seminary. "Truly, I quickly realized that I receive so much more from the people to whom I am sent to minister than I could ever hope to bring to them."
Monsignor Joseph Betschart, president-rector of the seminary, spoke of his admiration and respect for the men who have chosen to follow the call to priesthood in an age when their vocation may be openly questioned and discounted by society at large. These men, like the rest of the priests in the room, said Msgr. Betschart, "aren't perfect. But we strive for the perfection that Christ calls us to. And we couldn't live this life and continue this journey without your help."
Presenting the keynote address as chancellor of the seminary, Abbot Jeremy told those gathered: "I tell the seminarians that I admire them for their courage to remain in the seminary at this time with their desire to serve God's people still strong in them. They tell me that they stay precisely because they love the Church and want to offer their lives to strengthen the Church in troubled times. These are courageous and generous men. They are in love with Christ and with people. They deserve our prayers and our support."
Since 1889, Mount Angel Seminary has sent thousands of priests to serve more than 11 million Catholics in nearly 100 dioceses and religious communities around the world. As the oldest seminary in the western United States, Mount Angel is the only seminary in the West that offers a College of Liberal Arts, a Graduate School of Theology, and a Doctor of Ministry Program.