Vocational outreach includes liturgy with 17,000 young adults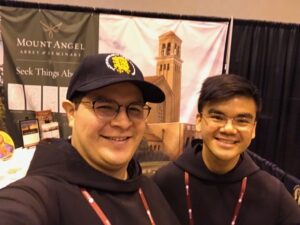 New Year's Day 2023 was the start of an exciting adventure for Br. Anselm Flores, OSB, and me (at left in photo). Usually, we would arise early and join our brother monks for lauds, the first hour of prayer on Sunday. That morning, however, Br. Jesse Ochoa, OSB, drove us to the Portland airport to catch a flight to St. Louis, Missouri. Our monastery on a hilltop in rural Oregon is our usual place of ministry, but for the first week of January, we were asked to attend and host a booth at the annual SEEK College Conference, sponsored by FOCUS (Fellowship of Catholic University Students).
At the conference, we met with college students, hoping to inspire them in their faith as well as introduce them to our Benedictine monastic life at Mount Angel Abbey. We brought icons, books, and merchandise from our Benedictine Brewery – such as hats, T-shirts and coasters – to share with them.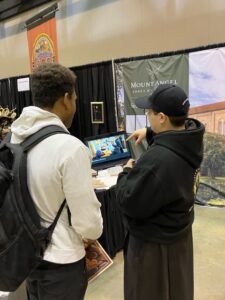 We even hosted a ring toss with Benedictine Beer bottles, making our booth a favorite stop among the students.
Among the many highlights of the conference, one of the best was connecting with a number of young men interested in monastic life. The presence and joy of the universal Church, so palpable in the young adults present, was truly inspiring for Br. Anselm and me. We returned to Mount Angel renewed in our vocation and grateful for the opportunity to nurture the seeds of a monastic vocation in at least a few conference participants.
Thank you for your support of Mount Angel Abbey, which makes vocational outreach like this possible. We go to introduce people to our Benedictine way of life, yet we also receive much from those we meet. A special grace was participating in beautiful liturgies with over 17,000 people. Please pray with us for vocations to our monastic community so that in all things, God may be glorified.
Br. Charles Gonzalez, OSB
Categories: Monastery, Uncategorized