Called to share a message of reconciliation
Being instituted into the ministry of Lector "is a moment of intentionality, of choosing to move forward," says Sylvester Rozario, a seminarian currently in his first year of theology at Mount Angel Seminary, studying for the Archdiocese of Seattle. "To proclaim [the Word of God], not just to read but to proclaim, to touch someone's life, to let God speak through you, that's a gift."
Mr. Rozario was one of 10 seminarians instituted as Lector during a Mass at Mount Angel Abbey on March 6, 2023. At the same Mass, six seminarians were instituted as Acolytes. Both Lector and Acolyte are among the public steps seminarians take along the way in their years of theological study in preparation and formation for priestly ordination.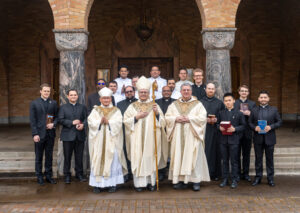 The principal celebrant and homilist for the Mass was Bishop George Leo Thomas, Ph.D., of the Diocese of Las Vegas. Speaking to the seminarians during the homily, he said, "I ask each of you, … [to] hear and heed the words of Pope Francis as he describes the Lord Jesus as the very face of mercy. … Dispense the healing balm of mercy with careless abandon as you minister among God's holy people, following the example of the Lord Jesus himself. … I enjoin you to assist your bishop and pastors to build a church that is the home of mercy, the domicile of forgiveness for today in a world marred by violence and vitriol."
Br. Damien-Joseph Rappuhn, O.S.B., a Benedictine monk studying for priestly ordination for St. Martin's Abbey in Lacey, Washington, said, "The institution as a Lector is a small step, but a profoundly meaningful step on the road of sharing God's message of reconciliation and healing. The prophet [Isaiah] says that God's Word, like the rain, gives life to the earth and will not return to him until it has achieved the mission for which he sent it (Isaiah 55:10-11). As a Lector, this is the level at which I am invited to participate in that mission of bringing good news to this hurting, suffering world."
Those instituted as Lectors include: Mbuiyu Patrick Gitau, Richard John Ordos II, and Sylvester Vijay Rozario, all for the Archdiocese of Seattle; David Pham Hoang, Diocese of Orange; Rico Daniel Landavazo, Archdiocese of Santa Fe; Erik Andrew Morris and Andy Julian Sanchez, Archdiocese of Portland in Oregon; Nathanial Wayne Loe, Diocese of Spokane; Elliot Yaryk Sifuentes, Diocese of Fresno; Br. Damien-Joseph Rappuhn, O.S.B., St. Martin's Abbey.
Those instituted as Acolytes include: Shawn Raymond Daniel, Archdiocese of Portland in Oregon; Jose Francisco Orozco Cardenas, Diocese of Fresno; Jose Luis Gomez Diaz, Kenneth Rey Parsad, and Jaime Zuazo, all for the Diocese of Salt Lake City; John Paul Langsfeld, Archdiocese of Santa Fe.
– Theresa Myers
Categories: Seminary