Two new deacons for Mount Angel Abbey
The community of Mount Angel celebrated the ordination of two new deacons, Brothers Ephrem Martinez and Timothy Kalange, on August 17, 2019.
In a powerful moment, Archbishop Alexander Sample silently laid his hands on the heads of the candidates, then began to sing the prayer of ordination.
Brother Timothy said one part of that long yet beautiful prayer spoke strongly to his heart. The archbishop asked that God might "abound in those being ordained every Gospel virtue: unfeigned love, concern for the sick and poor, unassuming authority, the purity of innocence, and the observance of spiritual discipline."
"These are powerful virtues to which every Christian should aspire and are especially important today in serving the people of God," Brother Timothy said.
In his homily, Archbishop Sample called the diaconate the final step before the priesthood, "a very special vocation" for a professed Benedictine monk.
"You, brothers, have this unique and wonderful blessing to combine both your religious vocation . . . (and) a call to ordained ministry in the church," Archbishop Sample said. "The laying on of hands to receive the grace of Christ, to be able to proclaim the word, to serve at the altar and to minister among the people of God as servants. You are called to be icons of Christ the Servant in your ministry."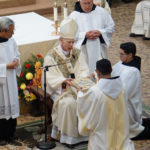 As deacons, the two men now are able to perform baptisms and marriages, as well as assist at the altar and preach during Mass. After a period of a year or two as deacons, they may be ordained as priests.
In this transitional period, Brother Timothy will serve as a deacon at the abbey as well as at St. Mary Parish in Mount Angel. He also will teach at Mount Angel Seminary.
"I pray that in serving the people of the parish and teaching future priests I will serve the monastic community well, be a gift to the church, and give glory to God," he said.
Brother Ephrem also is teaching classes at the seminary and oversees the monastic kitchen. He will continue ministering to the Spanish-speaking adults at St. Mary Parish. He said the highlight of his diaconate ordination was the people from the parish who attended.
"They now have become like my new relatives and family," he explained. "They came at 6 a.m. and made all the food for the reception. They support me in many ways and are really happy for this moment."
Categories: Monastery