Blessed Conchita helps us understand the need for holy priests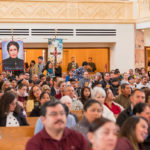 The Church celebrated the spiritual power of a faithful Catholic lay woman Sept. 14 at Mount Angel Abbey.
More than 400 people filled the Abbey church for a Mass of thanksgiving for Blessed Conchita Cabrera, a Mexican mystic who died in 1937 at age 75.
Concepcion Cabrera de Armida was born in San Luis Potosi, Mexico, in 1862, the seventh of nine children. Later known as Conchita, she experienced mystical gifts even as a child, including having the baby Jesus as a playmate. She was a mother of nine, widowed at age 39.
While raising her children as a model of Catholic parenthood, she also became a prolific spiritual author whose diary alone includes more than 60,000 pages in spite of no formal schooling.
A regular in Eucharistic adoration, Blessed Conchita received messages from the Lord regarding the need for sanctity in priesthood. Church authorities have accepted her writings, which are quoted in the Congregation for the Clergy's booklet on priestly holiness and spiritual maternity — the idea that priests have mother-like duties in spiritual life.
In 1907, she received a message from Jesus: "I must be offered by you at every moment."
Conchita, an inspiration behind the priests and brothers of the Missionaries of the Holy Spirit, has many admirers in Oregon.
"She is in my heart," said Kathy Valdez, a member of St. Mary Parish in the town of Mt. Angel. "She is an example of a strong, loving, faithful woman who served God and others around her."
Valdez, a mother and grandmother, said that she is "deeply touched" by Conchita's self-giving in family and community. "The Lord instructed her to work through the laity," Valdez said.
"I came to learn more about Conchita and know more details about her life," said Jocelin Morales, a 25-year-old member of St. Anthony Parish in Tigard who speaks of Conchita in the present tense. "She has a very deep connection with God and through him she has been able to help others."
Jocelin's sister, 27-year-old Viri, admires the Missionaries of the Holy Spirit and came to support them as they extend Conchita's ministry. "She was very dedicated and helped others, even though her family was a lot of hard work," Viri said.
"She is my spiritual mother," said Brother José Ortega, a Missionary of the Holy Spirit who is enrolled at Mount Angel Seminary. "She lived according to God's will." Brother José said his calling to consecrated life came from God but went through Blessed Conchita. The order has served parishes in western Oregon for several decades and specializes in spiritual direction.
Through Blessed Conchita's inspiration and help, several other ministries emerged, including a lay movement called the Apostleship of the Cross, a contemplative institute of nuns, a group of consecrated laity, and a movement of clergy called the Brotherhood of Christ the Priest.
After Pope Francis approved a miracle attributed to her, she was beatified in Mexico City in May. In 2007, Rome's Congregation for the Clergy had written, "In the future, she will be of great importance for the universal Church. The spiritual motherhood for the sanctification of priests consumed her completely."
During the Mass at Mount Angel Abbey, relics of Blessed Conchita were placed near the front of the church under an icon of her.
After the Abbey bells pealed over the Hilltop and to the valleys below, a procession included a large banner with a likeness of a smiling Blessed Conchita.
Archbishop Gustavo Garcia of San Antonio, Texas, blessed the relics and icon with incense as the faithful bowed and crossed themselves.
"Suffering can be absorbed by love," Archbishop Garcia told worshippers in English and Spanish, summing up one of Blessed Conchita's messages. "What is needed today is self-surrendering love."
A widow who knew the pain of loss, Blessed Conchita reflected on suffering for everyday people. For her, suffering for Jesus is a great joy for a Christian, Archbishop Garcia said, choking up with emotion. He beseeched her in prayer: "May you help us to hear the Lord as you did."
Archbishop Garcia, who once served in Oregon, is a Missionary of the Holy Spirit.
Portland Archbishop Alexander Sample attended, as did retired Portland Archbishop John Vlazny. Auxiliary Bishop Eusebio Elizondo of Seattle was on hand as well.
Most of the congregation were lay members of parishes in the region, especially St. Matthew in Hillsboro, served by the Missionaries of the Holy Spirit.
Father Peter Arteaga, a Missionary of the Holy Spirit who serves at the seminary, organized the event.
The Mass was held during Mount Angel Oktoberfest, so some visitors to the abbey happened in by chance.
"I had never heard of her before," Sarah McDonald of Lake Oswego said of Blessed Conchita. "She is just fabulous."
–      By Ed Langlois; reprinted with permission from Catholic Sentinel