Ordination of a Priest – Father Israel Sanchez, O.S.B.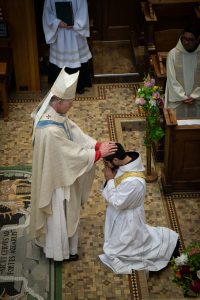 The community of Mount Angel gathered in the Abbey church on the morning of May 29 for the ordination to priesthood of Israel Sanchez, O.S.B.
Archbishop Alexander K. Sample, of the Archdiocese of Portland in Oregon, was principal celebrant for this solemn rite; Abbot Jeremy Driscoll, O.S.B., was principal concelebrant. The Mass was attended by dozens of family members, Seminary classmates, and friends of Fr. Israel. The liturgy is available for replay on Mount Angel's YouTube live stream channel.
Reflecting on the day, newly ordained Fr. Israel wrote, "When I made solemn vows in 2019, I experienced it as the moment where I stood before Jesus, who said to me, 'You are mine.' I responded, 'I am yours.' And I 'felt' that I was his. Something similar happened at the Mass of ordination. I stood again before the Lord, except this time he said, 'I am you.' How is that supposed to 'feel'? The one word to which I keep returning is 'complete.' I felt complete, hearing him say that, as if there'd been something missing in me until that moment. He made me complete. I feel complete. I also feel as though I'm just beginning, and I think of what Benedict says about the priests in his monastery: 'He must make more and more progress toward God.' A completeness, a fullness that somehow never ceases to grow. This is the gift he's given me at ordination."
Fr. Israel was raised in Yuma, Arizona, and came to Mount Angel as a seminarian for the Diocese of Tucson in 2011. He joined the community of Mount Angel in 2015 and made his first profession in 2016.
Categories: Monastery