Fr. Stuart Long: Lifelong fighter for Christ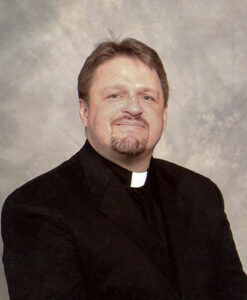 Though he was only 50 at the time of his death, Fr. Stuart Long led a big, adventurous life. As a high school student athlete in Montana, he excelled at wrestling and football. He continued with football at Carroll College in Helena, where he discovered his passion for boxing, winning the state Golden Gloves heavyweight title in 1985.
An injury ended Stu's heavyweight professional boxing dreams, and after a succession of short career starts, a motorcycle accident caused him to spend months in hospital care. In that time of recovery, he realized his vocational call to the priesthood and entered the seminary for the Diocese of Helena. He studied at Mount Angel Seminary from 2004 to 2007 and was ordained in 2007.
Father Pius X Harding, O.S.B., Fr. Stu's spiritual director at Mount Angel, remembers that Stu had a "casual, upbeat way about him: very interested in the people around him. He was most generous; as a matter of fact, you had to refrain from admiring things in his presence, or he would buy them for you."
While Stu was a seminarian, he was diagnosed with a rare autoimmune disease that mimics Lou Gehrig's disease symptoms, and for which there is no cure.
"He took [the illness] on like the fighter he was trained to be," recalls Fr. Pius. "And he went on to live the vocation of love. I know several who embraced the Catholic faith due to his kind example and zealous catechetical ministry."
Stu's formation director in his final year at Mount Angel, Abbot Peter Eberle, O.S.B., remembers the progression of his illness. "Finally, it became clear that his condition was serious and incurable. That's when Stu really shone. He took it all in stride, cheerfully accepting what the Lord had in store for him and still willing to minister to the very best of his ability. He was such an example to all of us."
Despite his illness, Father Stu was an active priest, confessor, and friend to many. In the years since his death, Fr. Stu has been on the mind and heart of actor and devout Catholic Mark Wahlberg. So much so that Wahlberg is near completion of a major motion picture about the conversion and priestly ministry of Fr. Stu. The movie, titled "Stu," to be released by Sony to theaters on April 15, 2022, stars Wahlberg as Fr. Stuart Long and Mel Gibson as his father.
– Christy Newland, for Mount Angel Letter
Categories: Monastery, Seminary, Uncategorized