Saint Benedict Festival 2019 on the Hilltop
Feast. Pray. Meet the Monks.That was the guiding theme for the fifth annual Saint Benedict Festival at Mount Angel Abbey on July 13.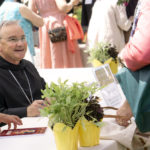 Fasting and prayer gave way to feasting and prayer, as a thousand-plus of the Abbey's friends – old and new – and generous supporters made their way to the Hilltop to meet and celebrate the feast of St. Benedict with the monks.
By all accounts, both guests and monks enjoyed the food, drink, music, tours, games and, especially, the camaraderie.
Mount Angel residents Kathy Wall and Mary Grant were eyeing the strawberry shortcake when they stopped to give their impressions of the festival.
"I love the way the monks mingle and are out here with everyone," Wall said. "… they are so friendly, so welcoming, so warm. I love it."
"Everybody needs to socialize," Grant added. "We need to socialize with them. They're not just strange guys dressed in black on top of the hill. They are normal, nice people that like to have fun.
"And what a selection of wine – wow!" Grant continued. "And Fr. Martin's beer! You can't beat it."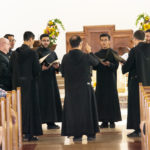 Trent Sislow, who entered the monastic community as a postulant in March, was hosting the lawn game competitions during the festival. A self-described introvert, Sislow said after all the socializing ended he would probably need to spend some quiet time with a book in his room. But he was clearly having fun interacting with the folks who stopped by to try their skill, and said he was glad to be a part of the festivities.
"This festival is a real full-blown hospitality experience," Sislow said. "It's great to have all these people here to experience a
little bit of our monastic life …. We are not here doing all this for our own sake. We're here so we can share with all these people. We have such a great community here; it kind of makes it easy."
One of the popular tours offered at the festival was of the newly-renovated Saint Benedict Guesthouse and Retreat Center. Guest master Fr. Pius X Harding, O.S.B., led large groups through the stunning new common spaces in the building. He apologized for not being able to provide a glimpse of the bedrooms, noting all the rooms were full for the weekend.
Bob and Char Wendling of Oregon City and Mike and Mamie Dec of Milwaukie lingered in front of the Last Supper sculpture in the guesthouse dining room. The impressive piece was done by Tomasz Misztal, a Polish artist who now resides in Oregon. Mamie Dec, who knows Misztal, pointed out details and shared insights about his work.
Bob Wendling marveled at the complete transformation of the guesthouse.
"I have attended retreats and stayed in the retreat house many times in the past," Wendling said. "It is such a serene place. My first retreat here was with my Catholic fraternity – Phi Kappa Theta – at Oregon State University back in 1962. It was a beautiful place then but is even more beautiful now."
Mike Dec said, "We do retreats for married couples in our parish, and our next retreat will be here. But I have a feeling it will continue to be full a lot of the time."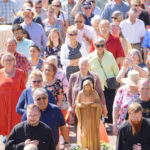 The one frustration for a festival guest is that there was not enough time to see and do everything. As the last guesthouse tour ended, it was nearly time to join the liturgical procession with the monks leading everyone into the church to bless the new St. Benedict statue, followed by Vespers.
As Abbot Jeremy Driscoll told the guests when the festival began earlier in the day: "Feast. Pray. Meet the Monks. All this is what we are here to celebrate and give thanks for."
Many are no doubt already looking forward to next year's festival, scheduled for Saturday, July 11, 2020.
– By Steve Ritchie for Mount Angel Abbey
Categories: Monastery