Monks welcome Christ with coffee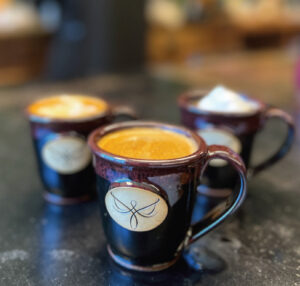 In the summer of 2022, the Abbey Coffeehouse at Mount Angel, located with the bookstore in the Abbey Press building, celebrated its grand re-opening after more than two years of closure. While the pandemic instigated the initial closure in the spring of 2020, the hiatus also provided an opportunity for envisioning a new design and ethos for the coffeehouse, spearheaded by Br. Alfredo Miranda, OSB.
When planning the renovation, Br. Alfredo drew inspiration from the Seven Rich Ways of Benedictine monastic life articulated by Abbot Jeremy Driscoll, OSB, especially the rich ways of hospitality and life together. Unlike coffee shops where one simply buys a coffee and departs, the Abbey Coffeehouse at Mount Angel is "designed as a space in which people can gather and be together," says Br. Alfredo.
The Abbey Coffeehouse proudly serves coffee made with beans from Coava Coffee Roasters in Portland, Oregon, which Br. Ambrose Stewart, OSB, playfully describes as "the 'Platonic Form' of coffee – in other words, when God created coffee, this is what he had in mind." According to Br. Alfredo, this emphasis on serving high-quality coffee and other specialty drinks is not for the sake of sophisticated marketing but rather for expressing Benedictine hospitality. "If we are receiving Christ through [our guests], we're going to try to give them the best that we can," he says.
A thoroughly monastic atmosphere pervades the whole Abbey Bookstore and Coffeehouse. Visitors frequently enjoy their coffee and reading while Gregorian chant or other sacred music plays in the background. The main coffee drinks are served in the sizes of novice, junior, and senior, reflecting the stages of monastic formation. Some drink specials include monastic terms found in the Holy Rule of St. Benedict, such as cenobite and sarabaite. Of course, the most monastic element in the Abbey Bookstore and Coffeehouse is the presence of the monks themselves, some of whom serve as baristas. For some visitors to the Hilltop, ordering their coffee may be their first interaction with a monk at Mount Angel. This casual, welcoming environment can lead to interesting discussions about the monastic way of life and an introduction to the Hilltop.
For more information and hours, please visit the webpage for the Abbey Bookstore and Coffeehouse.
Categories: Monastery