Ministries Mass: A Response to God's Call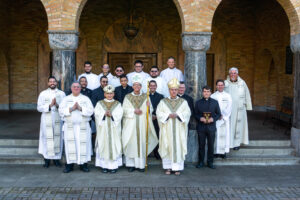 At a Mass celebrated in the church at Mount Angel Abbey on February 23, 2022, six seminarians were instituted as lectors and six as acolytes. Together, the men represented eight dioceses and one religious community.
Archbishop John C. Wester of the Archdiocese of Santa Fe was the principal celebrant, joined by Abbot Jeremy Driscoll, O.S.B., and Archbishop Vittorio Francesco Viola, O.F.M., Secretary of the Congregation for Divine Worship and the Discipline of the Sacraments, as the principal concelebrants. Over twenty priests from Mount Angel and other dioceses and religious communities concelebrated the Mass. They were joined in worship by the monastic and seminary community, friends, and employees of Mount Angel, with others following the livestream online as well.
The gospel reading for the liturgy was Luke 24:13-35, the account of the resurrected Jesus walking with his disciples on the road to Emmaus. In his homily, Archbishop Wester remarked how fitting it was for this gospel to be chosen, since "it underscores word and sacrament," which the lector and acolyte are called to serve, respectively. While opening the Scriptures to them and breaking the bread, Jesus gazed on his disciples with love. "Deep within his eyes, [Jesus] imprints grace," shared Archbishop Wester, inviting the seminarians to receive Christ's personal love for them in their vocational call.
Instituted into the ministry of lector were: Alberto Carrillo Pacheco, Diocese of Salt Lake City; Shawn Raymond Daniel, Archdiocese of Portland in Oregon; José Luis Gómez Díaz, Diocese of Salt Lake City; John Paul Langsfeld, Archdiocese of Santa Fe; Jose Francisco Orozco Cardenas, Diocese of Fresno; and Jaime Zuazo, Diocese of Salt Lake City.
Instituted into the ministry of acolyte were: Edward Burke, Archdiocese of Anchorage-Juneau; Brother Francis Lai, C.S.J.B., Congregation of St. John the Baptist; Edgar Yair Lozano Cuevas, Diocese of Sacramento; Maximiliano Muñoz, Archdiocese of Seattle; Martin de Jesus Ortega Ascencio, Diocese of Fresno; and Kyler John Voegele, Diocese of Reno.
Mount Angel Seminary, established in 1889 by the pioneer monks of Mount Angel Abbey, is the oldest and largest seminary in the western United States. It is the only seminary in the West that offers full college, pre-theology, and graduate theology programs, and one of only a few in the nation that offers degrees at all levels, baccalaureate through doctorate. Students experience exceptional academic instruction in a deeply spiritual, prayerful, and formative environment.
– Ethan Alano
Categories: Seminary, Uncategorized