Mass of Candidacy Is a Sign of Hope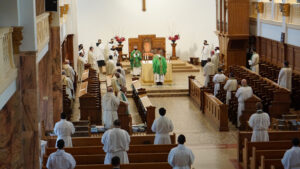 It was with great joy that Mount Angel Seminary celebrated the Mass of Candidacy for 11 seminarians in the Abbey church on the morning of October 22, 2020.
The rite and admission to candidacy is a prerequisite for ordination. After each man is called by name, the ritual proceeds with a series of questions, such as, "In response to the Lord's call are you resolved to complete your preparation so that in due time you will be ready to be ordained for the ministry of the Church?" Candidacy looks ahead to ordination, but its focus is on the man's resolve to devote himself to the necessary preparation. It is "an opportunity," notes Mr. Brody Stewart, studying for the Archdiocese of Seattle, "for both me and the institutional Church to pause and more seriously discern my vocation." Candidacy is not the end of the journey, but "an acknowledgment that I still have work to do before I can adequately serve the people of God."
Archbishop Alexander K. Sample was the principal celebrant of the Mass, at which were also present Abbot Jeremy Driscoll, O.S.B., chancellor, several prelates from dioceses with men studying at Mount Angel Seminary, and faculty and staff of the seminary community.
Archbishop Sample's homily was a direct address to the 11 candidates. "I believe we are living in another apostolic age," said the Archbishop. "Jesus needs apostles who are willing to pay even the ultimate price." Greater still than any trial, the Archbishop reminded the candidates, is the message of the Gospel: "We must never lose hope, because we are the disciples of Jesus. The victory is already won."
The Archbishop's words did not fail to inspire. "He spoke directly to us, like a father to his sons," said Mr. Adrian Sisneros, studying for the Diocese of Santa Fe. "He encouraged us as a father to persevere in suffering for Christ and for the People of God, because God is ushering in a new Pentecost.
Representing dioceses from across the western United States, the men accepted as candidates for ordination to priesthood were Sergio Chávez, Diocese of Salt Lake City; Arturo Cisneros, Diocese of Fresno; Tristan Dillon, Diocese of Salt Lake City; Agustín Henderson, Archdiocese of Santa Fe; Chad Hill, Archdiocese of Seattle; Franklin Iwuagwu, Archdiocese of Santa Fe; Juan Carlos Reynoso, Diocese of Fresno; Dalton Rogers, Diocese of Fresno; Darrell James Segura, Jr., Archdiocese of Santa Fe; Adrian Sisneros, Archdiocese of Santa Fe; and Brody Stewart, Archdiocese of Seattle.
Candidacy is the final step before ordination to the transitional diaconate. Join us in praying for these and all our seminarians.
– Br. Israel Sanchez, O.S.B.
Categories: Seminary, Uncategorized