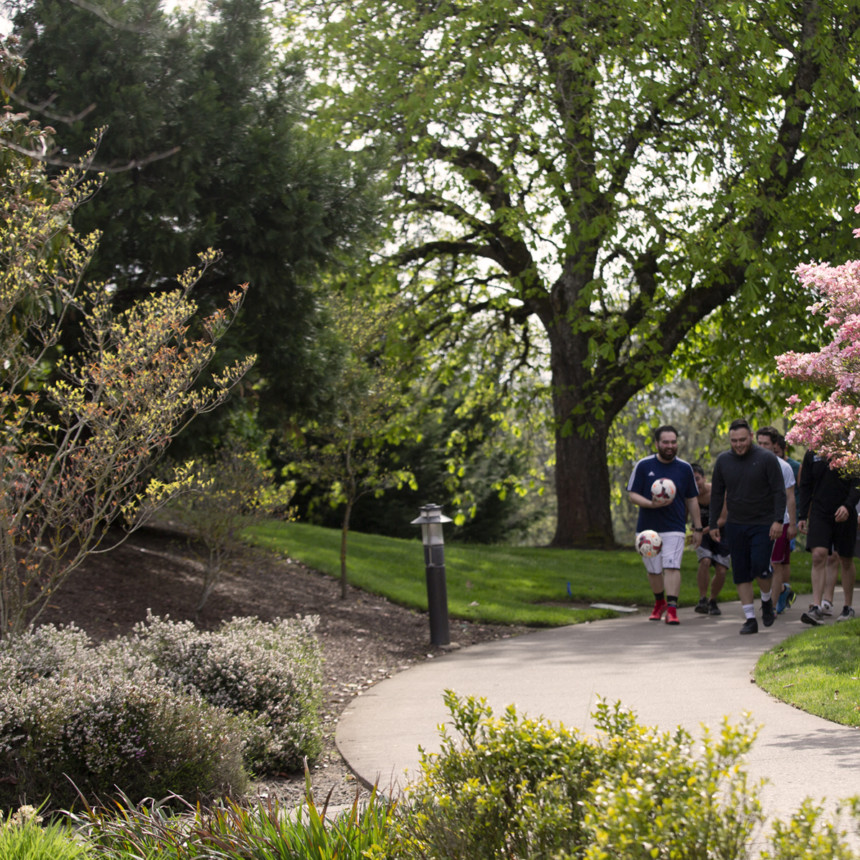 Staying active is part of the formation plan
Seminarians spend hours each day at prayer and study. But some also crash the boards, send headers into the corner or beast it up in the weight room.
"Being physically active is a great way to grow in holiness," says Kyle Rink, a seminarian for the Archdiocese of Seattle who leads a mountaineering club for seminarians and is a stalwart in the daily 4 p.m. indoor soccer game in the seminary gym.
According to Rink, hikes in the Cascades make seminarians aware of God's grandeur and sports help them function as a team and reach for greatness.
Physical fitness actually is a part of seminary formation. The goal is for future priests to learn to live a balanced life. Seminary leaders and bishops know that healthy men can be more effective pastors.
"Being active improves my overall health and improves my performance in school," says Rink, 25. "It keeps me happy. If I did not do this, I would have less drive in general."
He played baseball and soccer and ran track in school. Soccer is popular at the hilltop seminary, where students come from soccer-loving nations like Mexico, Argentina and Nigeria. The daily game draws 12 to 18 players with all kinds of skill levels. Men with less experience are treated with care and respect, and the competition among skilled players is fierce and fun.
Rink also lifts weights, runs and rides his bike. "The country roads around here are amazing," he says. "You can just go and go."
He is president of the seminary's Frassati Society, named after Blessed Pier Giorgio Frassati, an early 20th-century Italian who mixed devotion, charity, social justice work and outdoor adventure.
The men climb peaks in the ample surrounding wilderness, ski, trek on snowshoes and pray outdoors.
"It is not just sports for sports' sake, but you know you are going to grow," Rink explains.
When he came to seminary, Ivan Lara was pushing 300 pounds.
"Coming to seminary opened my eyes to how far off the deep end I had gone," said Lara, now 22, trimmer and studying for the Diocese of Las Vegas.
He starts each day with prayer and 30 minutes of exercise that gets his heart pounding. He runs the field in the seminary daily soccer game, plays basketball twice per week and shows up for volleyball once per week. The gym is his favorite seminary building, except for the church.
As a boy, Lara played all kinds of sports, but stopped as a teen when his parents could not afford fees or transportation. When he landed a job, he spent money on snacks instead of sports.
Being active helps all parts of his life, he says. "In class I am more focused. I am more focused on liturgy and prayer."
Seminary sports have helped Lara get more disciplined. Once a "go with the wind" person, he now sets goals for weightlifting and running and works toward them. He has learned to eat better, thanks to the seminary food service. He makes sure to get enough sleep.
He is surprised seminary took on all parts of his life, but he is glad.
"The thing that is really difficult here is balancing your life," he says. He knows the same will be true when he is serving in a parish someday, God willing. The experience he gained at seminary, he said, could make a big difference.
When it comes to basketball, the seminary has an organized squad that has played teams from other small schools like Multnomah College of the Bible, Reed College and Concordia University.
"We play against their junior varsity. If we played varsity, we'd get killed," says a good-natured Val Park, who hopes to be ordained a deacon next year for the Archdiocese of Seattle. He helped get the organized hoop team going.
"It's a good way to let some steam out," Park says of competition. "We try to keep a good balance, keeping it light so all people will come and build fraternity."
For Park, sports long have been a way to build friendships and develop a team perspective.
"You learn how to find your role in connection with people around you," Park says. "It allows you to be something bigger that just yourself. God willing, we will be team players as priests."
Park and his fellow players think they would benefit from having a coach. If there is a willing volunteer out there, the seminary wants to hear.
Story by Ed Langlois for the Catholic Sentinel. Reprinted with permission.
Categories: Seminary