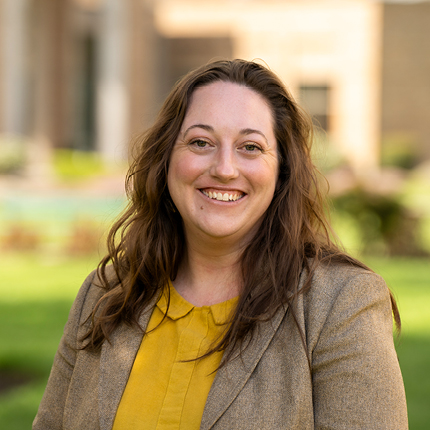 Katie Jo LaRiviere, PhD
Associate Dean for Propaedeutic Stage
Associate Professor of English
Contact
Education
PhD: University of Oregon (2019)
MA: Montana State University (2012)
BA: Seattle University (2008)
Courses taught
Ancient Literature
Medieval Literature
Early Modern Literature
Modern Literature
17th Century Metaphysical Poets
Theoretical Issues in Literary Study
Poetry and the Human Person
Literature and Ethics
Research interests
Medieval and Early Modern Literature
Medieval Theology and Patristics
Medieval and Early Modern Philosophy
Theories of Selfhood and the Human Person, Personalism
Critical Disability Studies
Composition and First Year Writing Pedagogies
Select projects
"Caregiving, disability and gender in academia in the time of COVID-19." by Monica Schneider, Kathleen Muldoon, Katie Jo LaRiviere, Rachel Wagner, Abigail Hornstein, Leigh Graham, Stephanie Shepherd. ADVANCE Journal. (May 2021).
"Play the Game but Refocus the Aim: Teaching WAW within Alternative Pedagogies." Next Steps: New Directions for/in Writing about Writing, ed. Barbara Bird, Doug Downs, I. Moriah McCracken, and Jan Rieman (Logan, UT: Utah State University Press, 2019).
"Lectio Divina and 'Profitable' Reading in Donne's Devotions Upon Emergent Occasions" in Philological Quarterly, 96.3 (2017) 323-48.
Professional associations
Medieval Association of the Pacific, Councilor
International Congress on Medieval Studies
International Medieval Congress