Seminary Benefit Dinner – Eugene
Seek Christ. Find Joy!
March 8, 2020 | Graduate Eugene
Reception 4 pm | Dinner 5 pm

The monks of Mount Angel invite you to join in their mission to inspire, educate, and form the priests of tomorrow.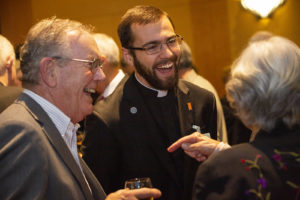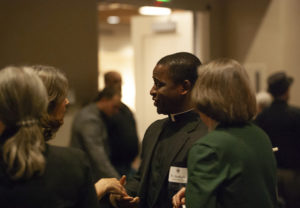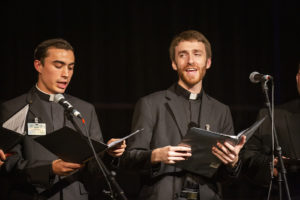 More than just a dinner, this is an evening to:
Meet and mingle with monks and seminarians at the hosted wine and beer reception
Enjoy music from the seminary choir and vocal groups
Be inspired by the words of Abbot Jeremy Driscoll and Deacon Dominic Sternhagen, the 2019-20 seminary class president
Witness the love and wisdom of Msgr. Joseph Betschart, president-rector of Mount Angel Seminary
Engage with like-minded friends, old and new
Will you help?
Support priestly formation at Mount Angel by sponsoring a table at the 2020 Seminary Benefit Dinner.
(Each sponsored table seats 8, including up to two seminarians, monks, or Abbey representatives.)
The men we celebrate at the dinner represent dioceses and religious communities from across the western United States. Proceeds from the evening allow the monks of Mount Angel Abbey to cover the cost and operating expenses of the seminary.
This spring, thanks to the Seminary Benefit Dinner, 44 students from Mount Angel Seminary received diplomas. Among the graduates were nine deacons, prepared to receive the sacrament of Holy Orders in their home (arch)dioceses in the following weeks. Others will begin preparations for their ordination to the transitional diaconate, looking forward to priestly ordination in the future.
God faithfully works miracles of grace in our world, and individuals are responding to that grace.
Thanks to your generosity, the Church of tomorrow will have shepherds, formed in the heart of Christ.
The Joy of a Worthy Challenge
You can help build the future of Mount Angel Seminary
Generous donors have contributed more than $200,000 to launch our Mount Angel Seminary Scholarship and Alumni Scholarship campaigns. They hope to inspire you and all the Seminary Benefit Dinner guests to match their vision for the future of Mount Angel!
Questions? Contact us at 503.845.3030 or email sbd@mtangel.edu.