Saint Benedict Guesthouse & Retreat Center
The monks of Mount Angel Abbey have undertaken a mighty mission: To expand and renovate their Saint Benedict Guesthouse & Retreat Center. The transformed center is once again open and ready to serve as a haven for guests who seek an authentic spiritual experience – grounded in the monks' 1,500-year-old tradition of prayer and liturgy. The photo above shows the architect's rendering of the new Visitation Garden, with inviting spaces and quiet corners for prayer and reflection.
A Word from the Abbot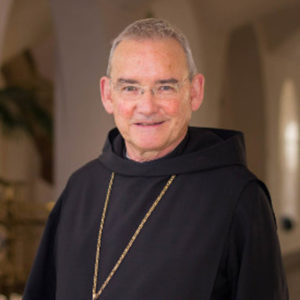 Autumn 2017
Dear friends,
Since becoming Abbot (and before then), I have encountered many benefactors and guests of the Abbey who spoke eloquently about the role of the Retreat Center in our Archdiocese and beyond. It's more than a place, they tell me. It is a holy experience.
Here, they say, you find respite from an increasingly secular society. Whether you visit the Hilltop to encounter Christ and deepen your faith, to enter into prayerful quiet, or to interact with monks, spiritual directors and fellow guests, the ancient rhythms of this place seep into your heart, inviting God's love into your daily life.
In the 6th century, Saint Benedict voiced a revolutionary vision for receiving guests and recognizing Christ in them. Similarly, in our day, Mount Angel Abbey is called to contribute to the American cultural scene, where relations between people can be so difficult. I think that's one reason why people visit our hilltop. They long for a place where you don't have to earn kindness or buy it or deserve it. They know that, if you go to Mount Angel, you will be treated with grace. It doesn't matter who you are.
The Benedictine life has inspired some of the greatest architecture in the history of Western Europe. In that spirit, we don't want to just fix up this building because it's falling down. We want this project to match the beauty and integrity of the Abbey library and Annunciation, the seminary's learning center. In those cases, the vision of the monks was not to build store rooms for books or merely functional classrooms, but to create spaces that inspire excellence because they themselves are excellent.
Over centuries, monks have learned how to create virtual domains. With their monasteries, they have created worlds apart – not to keep the rest of the world out, but to show what the world could be. With their monasteries monks have shown how people can live together, what their buildings could look like, what their homes could look like, how they should eat, how to study and work – in short, how they do anything. This "world apart" is the treasure we want to offer lay people and clergy, bishops and seekers, Catholics and non-Catholics.
St. Benedict taught his monks to "greet all guests as Christ." This is a Benedictine value that encourages each of us to grow in faith and charity. Greeting guests as Christ is our spiritual ministry and commitment at Mount Angel.
Since we first began exploring this project in 2014, under the leadership of Abbot Gregory Duerr, it has been quite a journey. Construction began in 2017, laying the foundation on the south side of the building for the expansion.
This project is a big dream for me and my community. We believe Mount Angel Abbey is called to offer a welcoming Christian space that is open to everybody. This is a place where the monks themselves are growing and expressing their own monastic conversion, by developing the capacity within themselves to recognize Christ in each guest. I sincerely hope you share our dream to transform the Retreat Center to meet the spiritual needs of so many.
To close with the words St. Benedict prescribed for the monastery's old Porter, each time he greeted guests, "Thanks be to God. Your blessing, please!"
Please pray for us at Mount Angel Abbey. Thanks be to God for you.
Sincerely in Christ,
Abbot Jeremy Driscoll, O.S.B.

Mount Angel Abbey