Br. Charles Gonzalez, OSB, ordained a deacon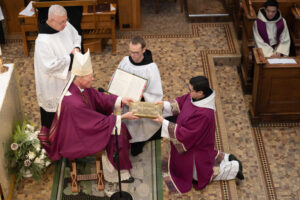 On Saturday, December 10, 2022, the monks of Mount Angel Abbey welcomed Archbishop Alexander K. Sample to the Abbey church to ordain Br. Charles Borromeo Gonzalez, OSB, to the diaconate during the celebration of Mass. Abbot Jeremy Driscoll, OSB, and Abbot Austin Cadiz, OSB, current abbot of Our Lady of Montserrat Abbey in Manila, Philippines, served as the principal concelebrants. Family and friends of Br. Charles and other guests filled the Abbey church while others followed the liturgy on livestream.
After the proclamation of the gospel, Abbot Jeremy presented Br. Charles to Archbishop Sample as a candidate for ordination. The congregation applauded to voice their support for his ordination as a deacon. During the homily, Archbishop Sample preached on the sacred duty of the deacon to proclaim the Word of God and to evangelize. Turning to Br. Charles, the archbishop prayed that "the Lord touch your lips today to place his words there so that you may boldly proclaim Jesus Christ to the world."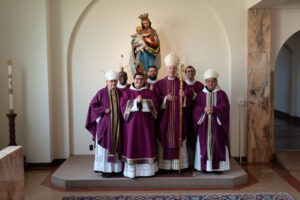 Following the homily, Br. Charles stood in front of Archbishop Sample and made the promises of a deacon, after which he prostrated himself on the floor while the monastic schola chanted the litany of the saints. His classmate, Deacon Sylvester Chanda of the Archdiocese of Seattle, then assisted Br. Charles as he put on the stole and dalmatic, the vestments proper to the deacon. After receiving the book of the gospels, Br. Charles exchanged the sign of peace with Archbishop Sample, Abbots Jeremy and Austin, and the other deacons assisting with the liturgy. From there, Br. Charles exercised his sacred duties as a deacon during the rest of the Mass.
The monastic community gives thanks to God for the gift of Br. Charles's diaconate ordination and asks for prayers for him as he begins this new ministry of service.
–Ethan Alano
Categories: Monastery, Seminary, Uncategorized